Unforgiven Not Forgotten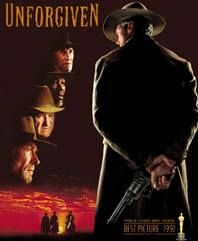 'Unforgiven' is one of those movies that I could talk (or write) about all day. I won't right now, because I like to maintain the illusion that I have a life, but trust me, it's right up there as one of a handful of my all-time favourite movies. Having said that, I only got around to buying it on DVD a couple of days ago, hence this review.
This movie is the ultimate western- the final statement on the genre from the man who knew it better than most, Clint Eastwood. The story goes that Eastwood bought the rights to the script sometime in the early '80s, and then hung onto it until he was old enough to play the lead role. Needless to say, his patience paid off... he commands the screen with a degree of pathos and a sense of mortality that was only hinted at in his earlier performances, and was once again on display in 'Million Dollar Baby'.
Of course, credit for the film's genius must go to screenwriter David Webb Peoples ('Blade Runner') as well. There are so many well-developed characters here, each brought to life by brilliant performances from some of cinema's greatest acting talents. For sheer memorability, it's hard to go past Richard Harris' portrayal of English Bob, if only for the immortal line, "...well, why not shoot the President?"
Aside from Harris, there's Gene Hackman's splendidly complex Little Bill, a brutal sherriff with good intentions who protects his jurisdiction of Big Whiskey, Wyoming with what can only be described as excessively excessive force. Morgan Freeman brings his typical air of down-home grandeur to his wonderful role as Eastwood's old partner, and Saul Rubinek, who is usually forgotten in discussions about this film, provides metatextual fun as a journalist prone to writing overly dramatic biographies.
Like the classic westerns that it derives its inspiration from, 'Unforgiven' is not short on laughs despite its heady subject matter. To be honest, I'd forgotten just how many chuckles you can get out of it. After all, it's easy to forget such things in light of the towering dramatic arc that drives the work.
Reflecting its title in every possible way, 'Unforgiven' is the story of a woman hellbent for revenge, even if it means vastly overstating the wrong that was actually committed against her and refusing non-violent settlement; a man unable to ever forgive himself for his sins; and the inherent, unforgiving violence of the harsh Western frontier's last gasps before settling into domesticity. Truly, "deserve's got nothin' to do with it."
A famously laid-back director, Eastwood infuses 'Unforgiven' with an elegaic rythym that lulls you in rather than sending you to sleep, entrancing you with the beauty of its meditative moments before shocking you with staccato bursts of brutality.
After bidding a fitting farewell here to the genre that made him a star, Eastwood continues to make great films across a variety of genres... but this will always be seen as his true masterpiece.